Winter 2018 Products Overview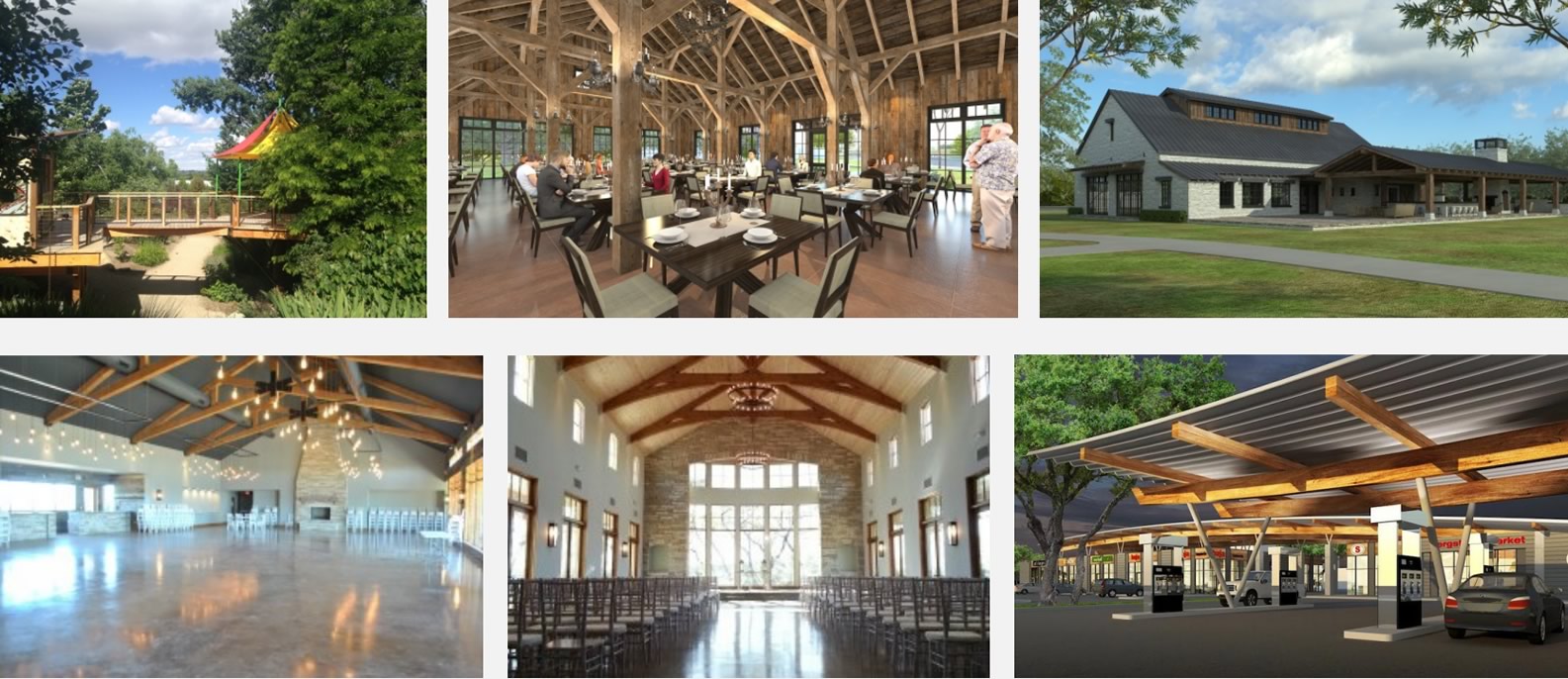 Although we have been producing our E-letters for several years we wanted to provide a general overview of our products. If you have an interest in any specific product types or species, just let us know and we will forward additional information, images, samples, etc.
Just to re-cap our history, we started our business in 2005 with the launch of Texas Architectural Timbers. Creating this company was a result of my frustration as a designer in sourcing better quality and wider varieties of timbers for my residential projects. Apparently other architects and builders felt the same frustration for we have continued to grow and expand both our product offerings and geographical coverage culminating in the creation of our second company, Southern Panel & Decking, in the Summer of 2012.
Over the years our completed project list has grown from only high end residential projects to now include commercial and institutional projects such as lodges, botanical gardens, churches, wedding venues, assisted living complexes, retail centers, office buildings and academic campuses.
Our unique business model of not maintaining any inventory but rather having material processed and shipped directly from our mills to your building site allows us to not only provide an almost endless array of products but also to supply projects in all parts of the United States. Besides countless Texas installations we have supplied projects in California, Idaho, Oklahoma, Louisiana and Mississippi. We are currently working on projects in Maryland, Louisiana, Arizona and Arkansas. Direct shipping also allows us to keep our pricing
at a very competitive level.
TIMBERS
For our timber packages, we specialize in Vacuum Kiln Dried Eastern White Pine and Douglas Fir, Traditionally Kiln Dried Douglas Fir, Green Alaska Yellow Cedar and Green Western Red Cedar. We recommend Alaska Yellow Cedar for exposed exterior applications because of its superior natural rot resistance but we now can also have Borate Pressure Treatment applied to Eastern White Pine Timbers to resist insect damage as well as fungal growth.
From a value engineering perspective, Eastern White Pine can be ordered in 2' increments while Western species typically are rough cut to 4' increments…this can result in a savings of up to 20% because of minimal "drops" (waste) on site. Please note we can provide custom fabricated Architectural Glue-Lam Beams in Douglas Fir and Alaska Yellow Cedar.
Our preferred specifications are:
#2 & Better Eastern White Pine
#1 & Better Free of Heart Center Douglas Fir
Tight Knot Alaska Yellow Cedar
Appearance Grade Western Red Cedar

Western Species are available in smooth, re-sawn and rough sawn finishes. We always caution our customers about rough sawn stock because of the potential for discoloration, sticker marks and other cosmetic issues but also because dimensions can be widely variable. Our Eastern White Pine (and Douglas Fir) can have mechanically distressed finishes applied for a nominal upcharge to include:
Circular Sawn
Faux Hand Hewn
Wire Brushed
Rustic Corner Chamfer

TIMBER TRUSSES and TIMBER FRAMES
Trusses
We supply Heavy Timber Truss Packages on a regular basis for both structural and decorative applications. Almost all of our work is executed in either Eastern White Pine or Douglas Fir. Because of shipping costs, Eastern White Pine packages will be 15% less than Douglas Fir. While we can fabricate trusses with steel connecting plates if desired, most of our delivered units are full mortised and pegged units (no metal or concealed structural steel plates). The cost of milled wood truss components is the same and then the cost of applied steel plates is added making mortised trusses much more economical. On trusses and timbers frames we can also provide engineering design and seals for any state if needed.
While most of our truss installations are assembled and installed by the General Contractor, we are always ready to travel and assist your framer in assembling trusses on site. For more complex projects we can also provide a Technical Assistant (Foreman) from our fabricator's erection division to travel and work with your local crew.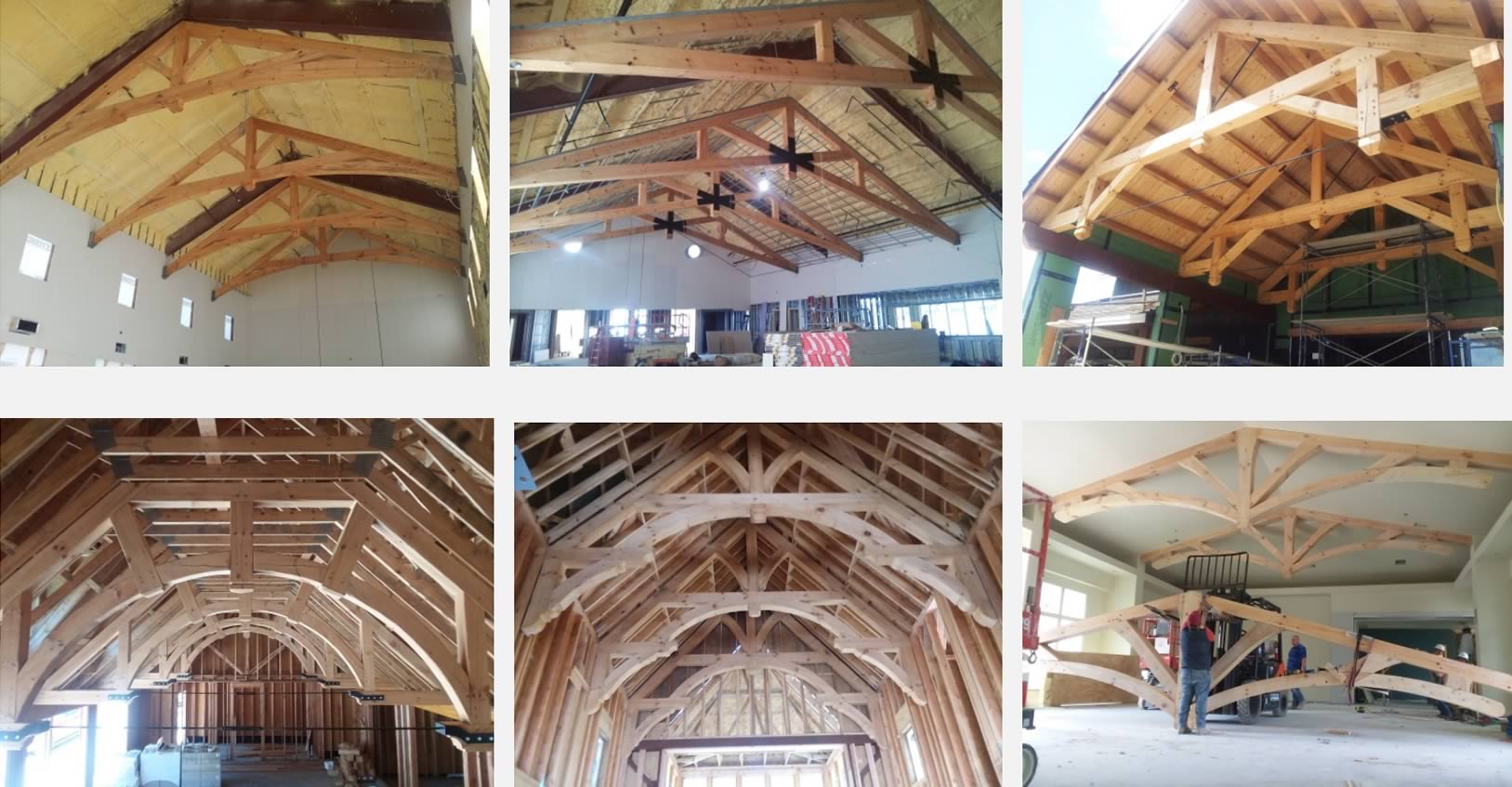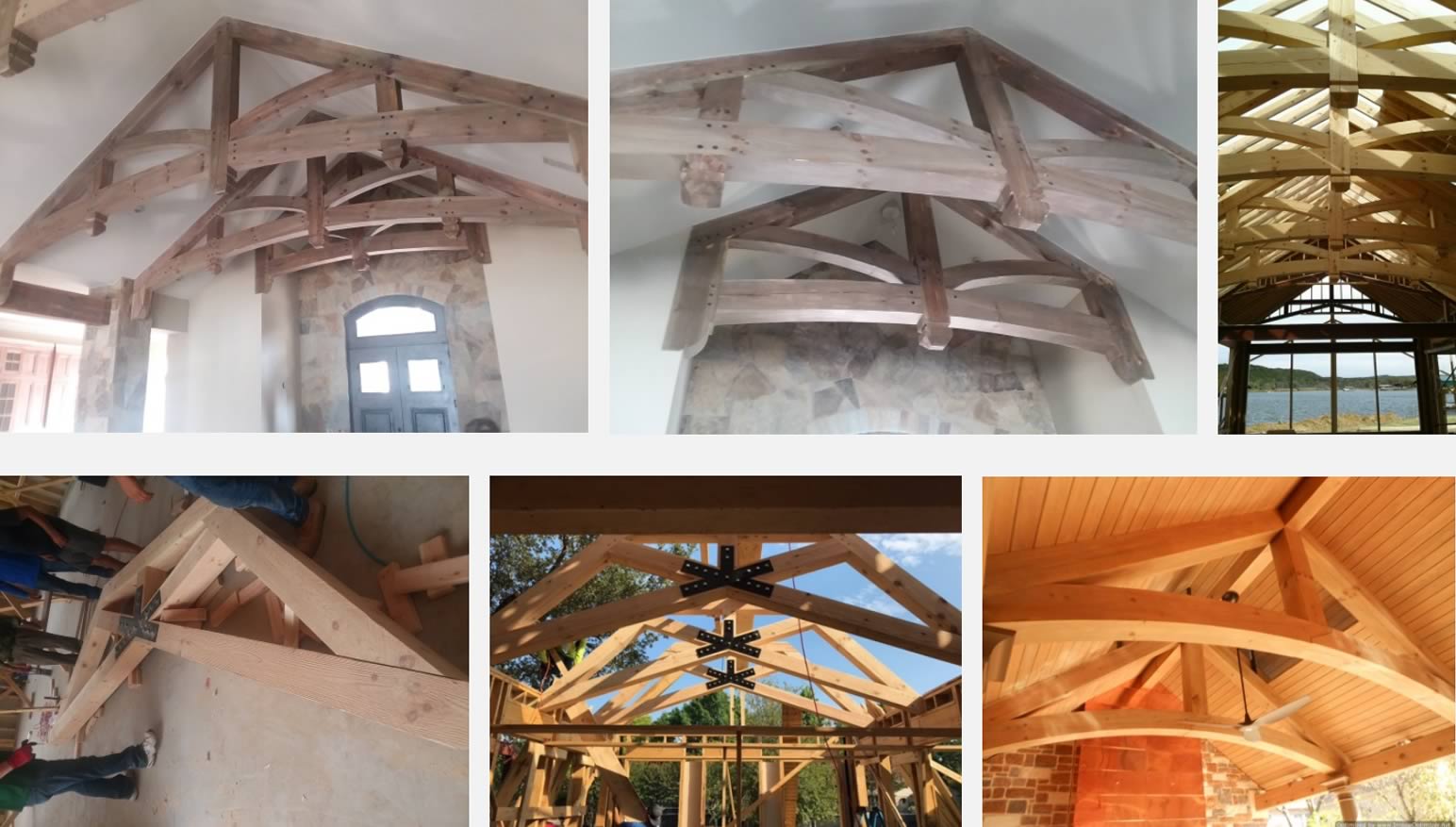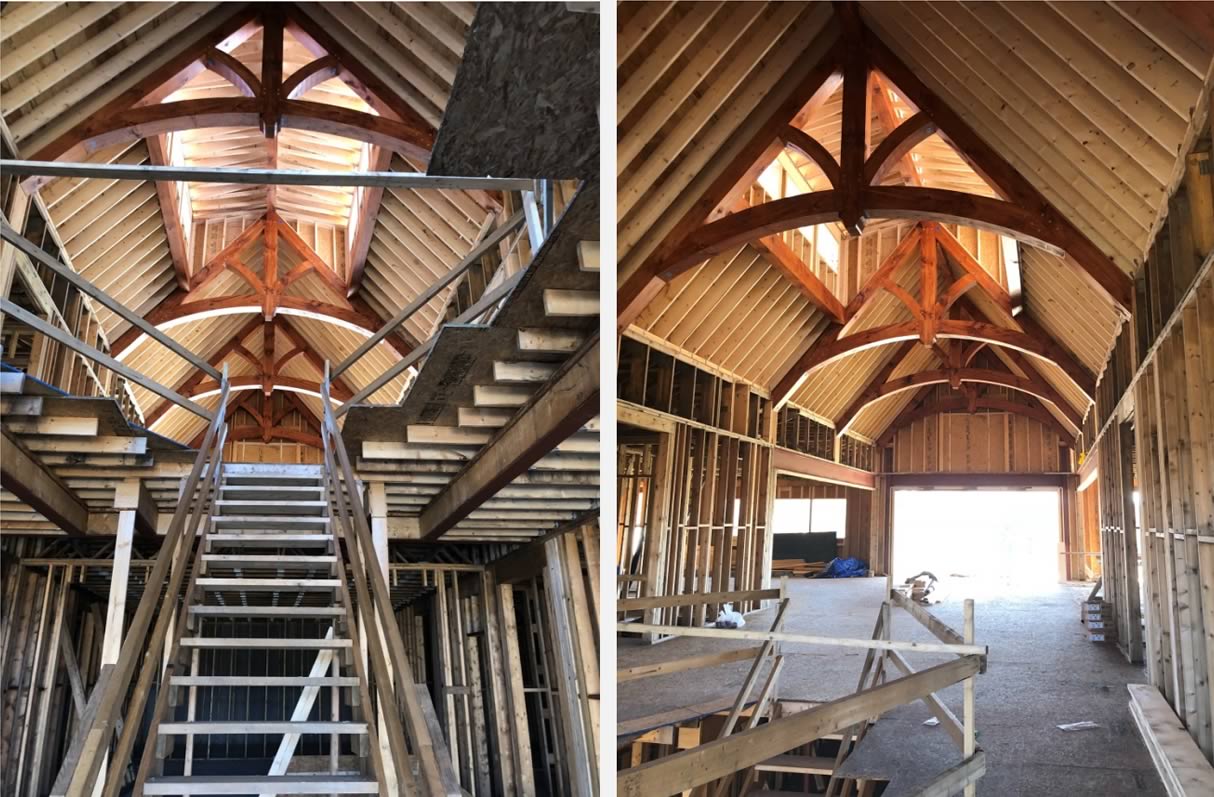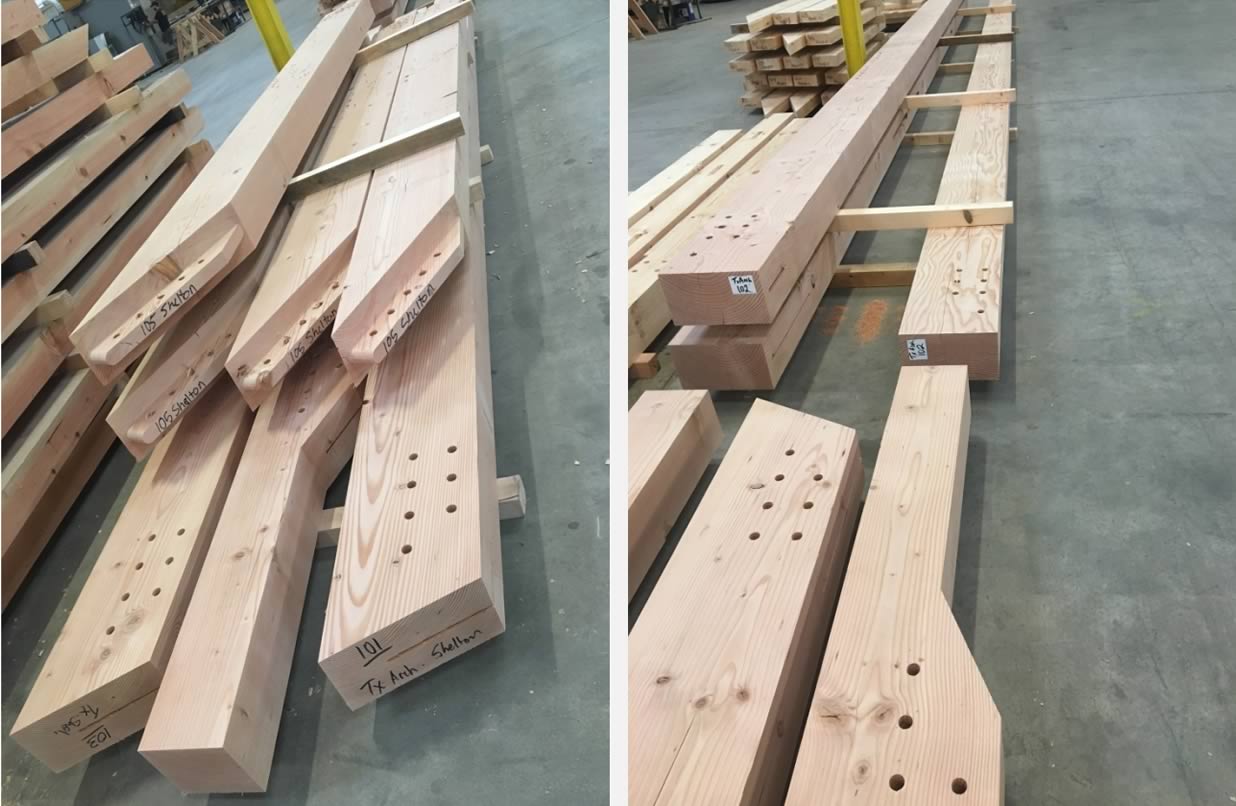 Timber Frames
We also specialize in stand-alone timber framed structures such pavilions, pergolas and barns. The same parameters described for trusses above apply for these structures as well. Although we can provide full erection services if needed, we generally recommend having us supply a Technical Assistant (Foreman) to work with the General Contractor's local crew in assembling and erecting frames. This is a real world solution that keeps labor costs down.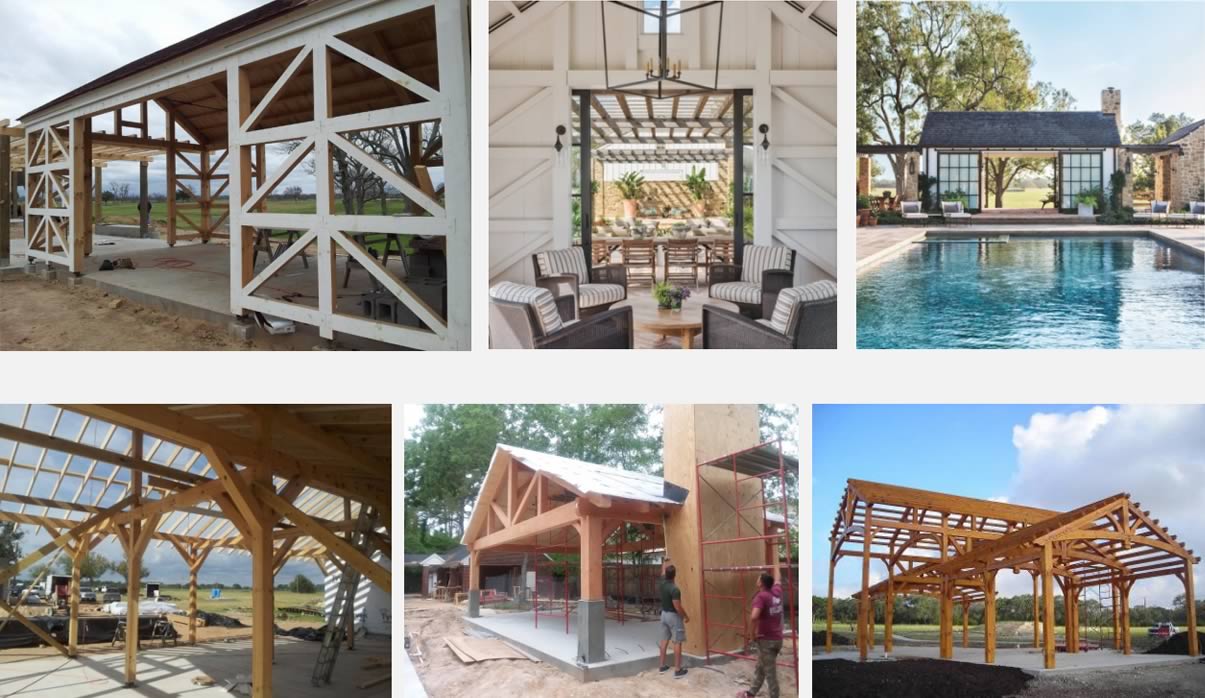 Antique Trusses & Timber Frames
Our heavy timber capabilities have increased to include Custom Timber Frames, Trusses and Log Structures (including veneer). These assemblies are mortised and pegged structures carefully fabricated from antique hand hewn timbers to meet your design requirements. Engineering can be provided for these assemblies as well.
Our log structures/veneers are also fabricated from hewn timbers and feature dovetail joinery at outside corners. On these types of structures, our fabricators' craftsmen will travel to assemble on site. Pictures below include a Dining Hall and Pavilion for a Hunting Lodge currently in production as well as a pair of cabins we supplied for a family retreat complex.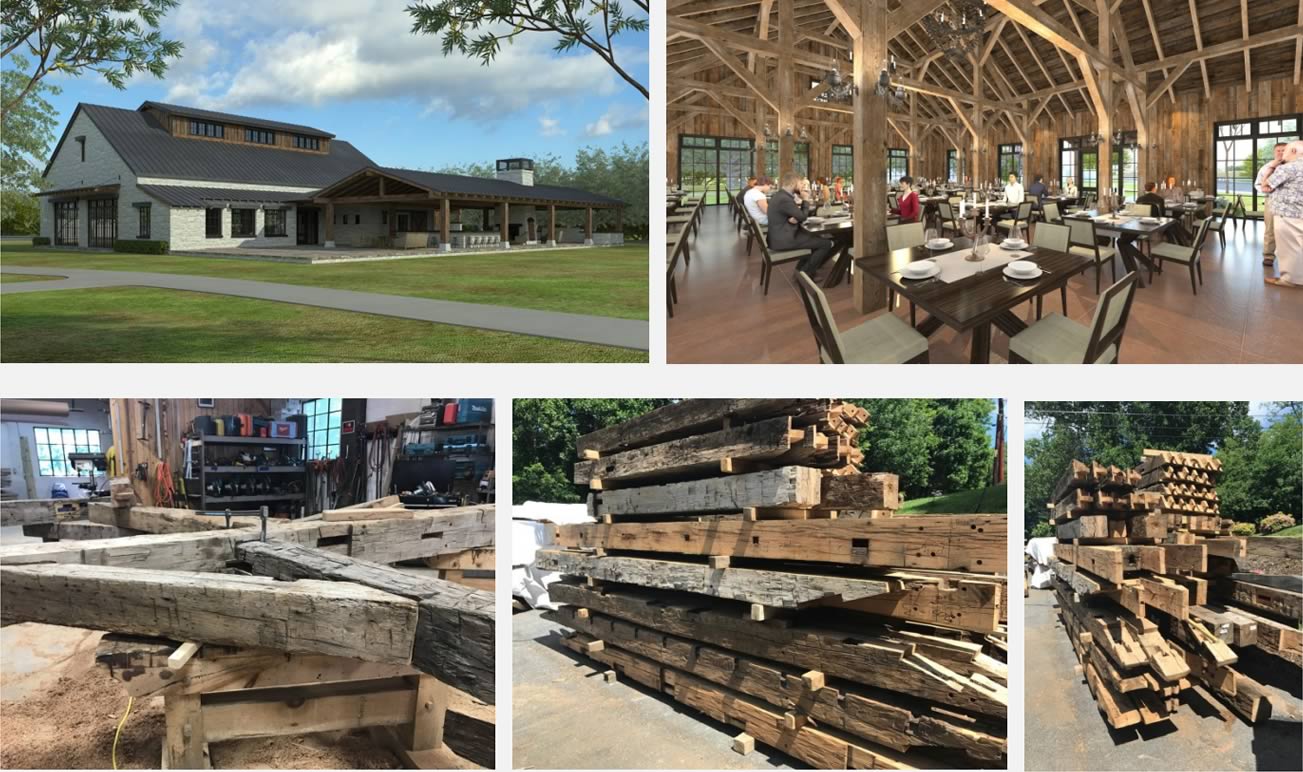 DECKING
We have made it our quest to identify temperate climate decking species which are durable and cost effective alternatives to tropical woods such as Ipe. Our Alaska Yellow Cedar and Red Grandis are both rot and insect resistant and will perform well for decades. All of our decking is milled upon ordering so thickness, width and profile are all based on your needs and budget.
Alaskan Yellow Cedar Facts:
Alaska Yellow Cedar is a slow growing, tight grained softwood species found in Pacific Northwest. It weathers naturally to beautiful powder gray.
AYC is very decay resistant and has a Janka density of 580 which is harder than Chestnut and Poplar.
Grades are STK (small tight knots) and Clear. The color and grain are very uniform.
We can provide up to 8″ widths and 20' lengths in STK grade. Clear grades, like most species can be more restrictive in lengths and widths.
AYC Decking can be milled up to 8/4 stock.

Red Grandis Facts:
Red Grandis is a relatively fast growing Eucalyptus hardwood species that is plantation
grown in South America.
It has excellent weather and insect resistant qualities and is quite heavy at 4.5 lbs per bf
with the same density as Teak. Janka rating is 1420 which is harder than White Oak.
It's appearance is more like Mahogany and color is quite uniform
We can easily get up to 8″ widths and 9'-13' in length
It comes in 4/4, 5/4, 6/4, and 8/4. Grade is FAS and Better (substantially clear)

EXTERIOR SIDING
Eastern White Pine
Our range of species supplied for exterior siding is extensive. Eastern White Pine is our most economical choice for both stained and painted applications. Our EW Pine mill is located in New England which is the source for the highest quality stock . All packages are milled upon order so the choice of widths and profiles is endless. We can supply wide boards up to 20″ for board and batten installations.
Our most common grades delivered are Premium (tight knots…the "classic" knotty pine) and Select D (virtually clear…infrequent small knots allowed). Our Select D Eastern White Pine is by far the most economical premium "clear" material available. A neat choice for more rustic installations is our circular sawn board which implies an aged appearance.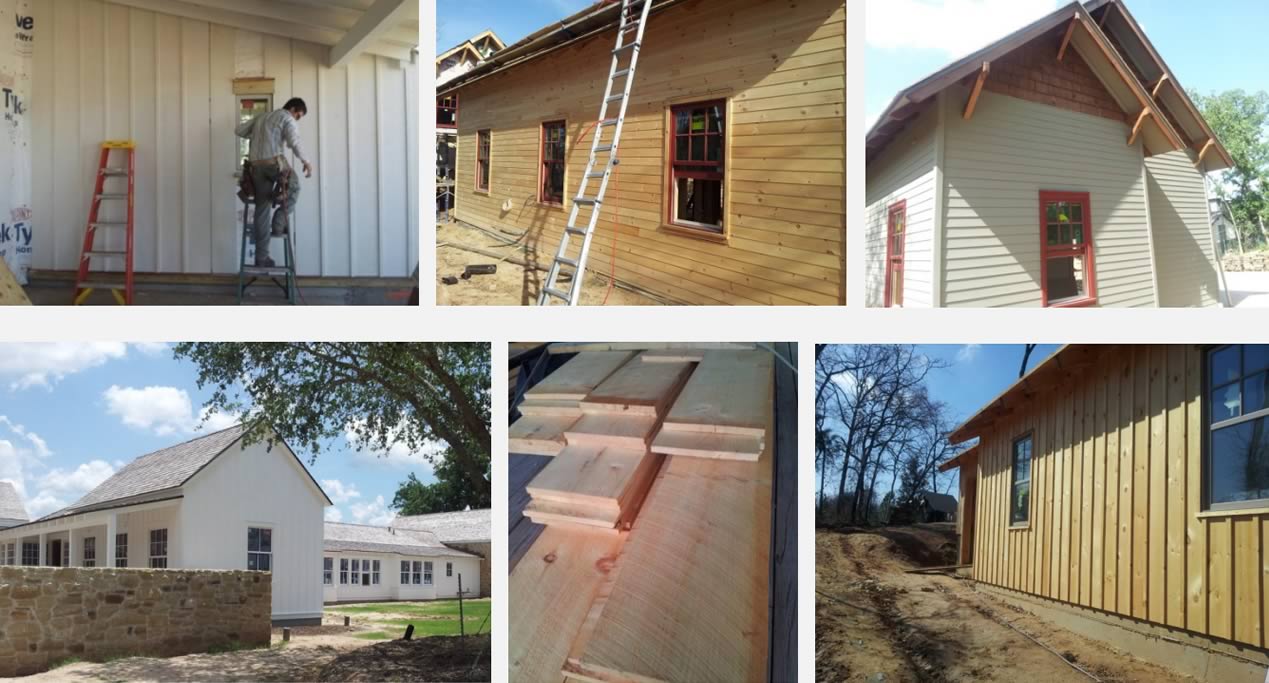 Alaska Yellow Cedar
For more durable exterior siding applications we can have Alaska Yellow Cedar, Red Grandis and River Recovered Cypress milled to almost any profile. We also specialize in providing Clear Grades of Douglas Fir and Western Red Cedar as milled siding.
Alaska Yellow Cedar makes a durable siding material and though it can be stained is best left to weather gray and is also a wonderful substrate for exterior painting on traditional homes and replacement of older/historical painted siding installations. It is available as Tight Knot, Clear Mixed Grain and Clear Vertical Grain.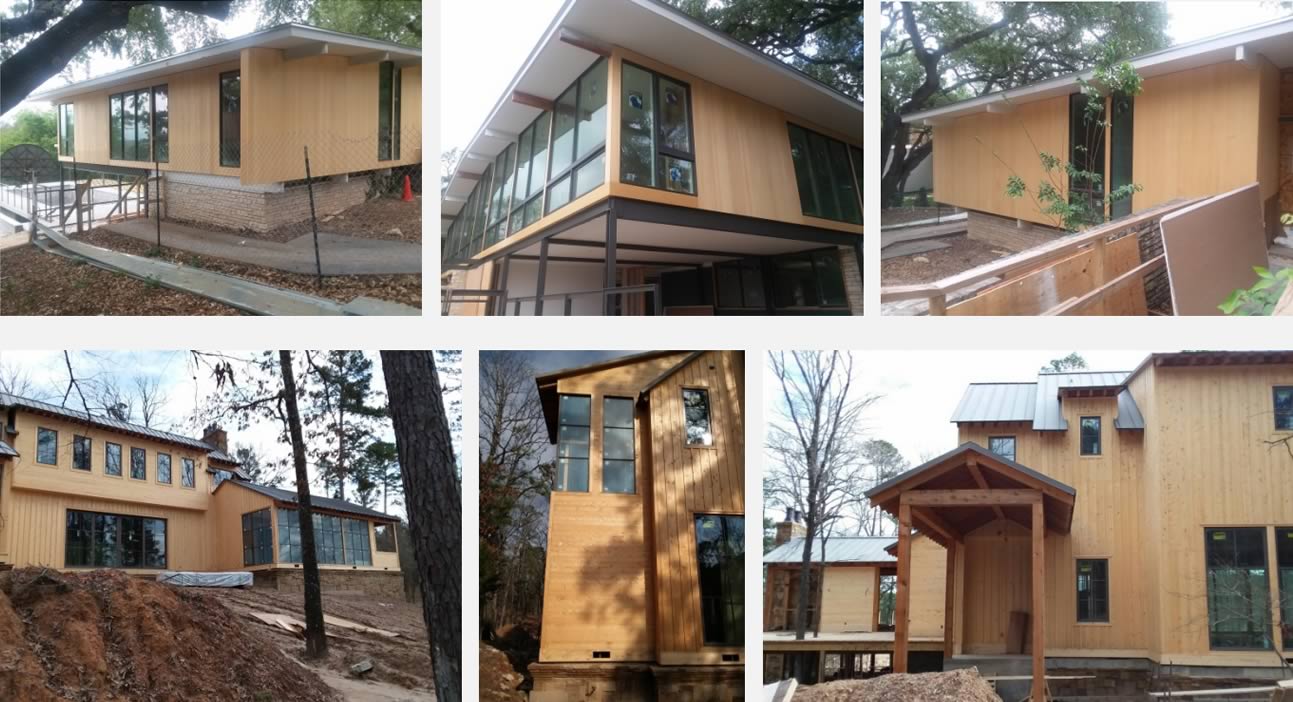 River Recovered Cypress
We have wonderful sources for River Recovered Cypress. This material is beautiful as well as extremely rot resistant. Widths of 4" to 8" and thickness up to 1" are doable and we can mill to virtually any profile.

EXTERIOR CEILING PANEL & DECKING
Supplying exterior ceiling and soffit panel packages is a large part of our business. We can supply 1x and 2 x Panel/T&G decking in Eastern White Pine, Douglas Fir, Western Hemlock, Alaska Yellow Cedar and European Spruce. We also can provide Laminated Structural Decking with veneer faces of Douglas Fir and Alaska Yellow Cedar in a variety of grades from Tight Knot to Clear Vertical Grain.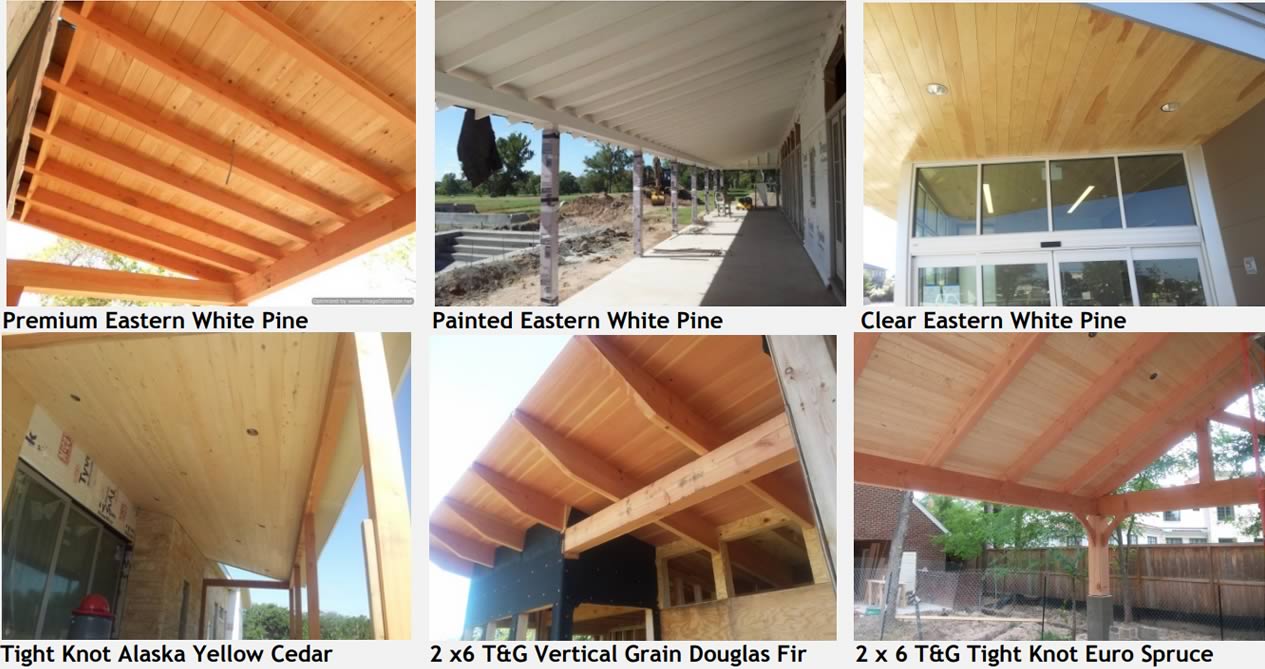 SHINGLES AND SHAKES
We now offer shingles and shakes in Alaska Yellow Cedar. Much more durable than Western Red Cedar and with a superior flame spread rating and a higher critical ignition temperature, these shingles can be provided with a Class B fire rated treatment if desired. With their tight stable grain these shingles/shakes will buckle less than Western Red Cedar and weather to a beautiful powder gray if left unstained or unpainted.