Distressed Timbers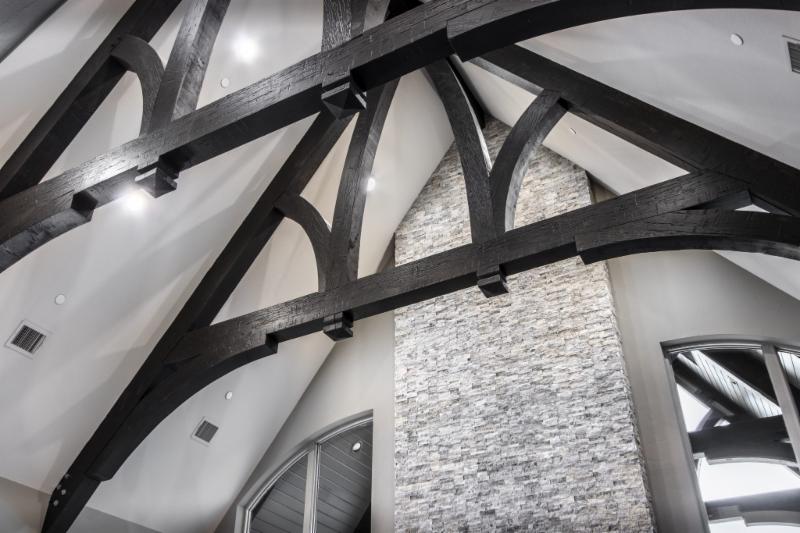 We feature our heavy timber truss projects on a regular basis but we also provide heavy timbers associated with our trusses as well as whole house loose timber and rafter packages.
Many of our customers and their clients desire reclaimed timbers for their projects but the associated cost, the limitations in available sizes and proportions and the difficulty of assembling consistent groupings in specific rooms make using antique timbers problematic on many jobs.
Fortunately, we now have the capability of applying mechanically distressed finishes to our kiln dried trusses and timbers which successfully replicate century old textures such as axe hewn barn timbers and circular sawn mill timbers. Applied with state of the art machinery, our textures are applied uniformly and at a fraction of the cost of hand applied distressing. We can also supply timbers as planed smooth or hand sanded.
The images below show the range of textures available to include hand hewn, circular sawn, and wire brushed. These finished can be applied in layers such as wire brushing over hewn or circular sawn for no additional cost. We ca also have a rustic adzing applied to corners if requested. Most images are of our Eastern White Pine but Douglas Fir and Alaska Yellow Cedar are options as well.
Hand Hewn with Wire Brushing


Circular Sawn with Wire Brushing

Wire Brushing Only

We would appreciate the opportunity to enhance your project with these unique finishes. Please send us PDF's of your plans or a material list and we will quickly provide you with a turn-key quote.
Hand Sanded Examples