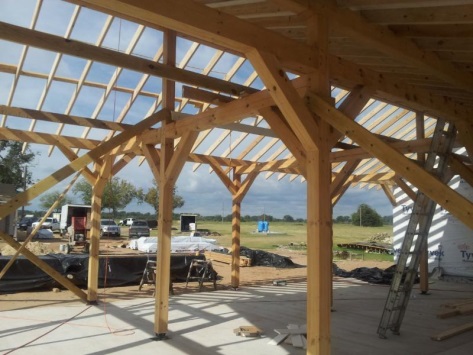 We also specialize in stand-alone timber framed structures such pavilions, pergolas and barns. The same parameters described for trusses above apply for these structures as well.
Our typical timber frame is fabricated from Eastern White Pine or Douglas Fir. Other species such as Cypress and Alaska Yellow Cedar are available but are incrementally more expensive. Because Eastern White Pine is a local material to our fabricators, the cost of trusses in this species is typically 10% to 15% less than Douglas Fir. We are personally a fans of Eastern White Pine because it is much more color neutral than Douglas Fir and consequently offers greater flexibility in achieving specific stain solutions. Another advantage of Eastern White Pine is that we can have it Borate Pressure Treated for exterior installations…this treatment is not possible with Douglas Fir.
In addition to smooth finishes and precise chamfers, we can deliver with mill applied mechanically applied finishes including circular sawing, wire brushing and rustic corner chamfering. Our newest texture is our hand hewn which is also mechanically applied.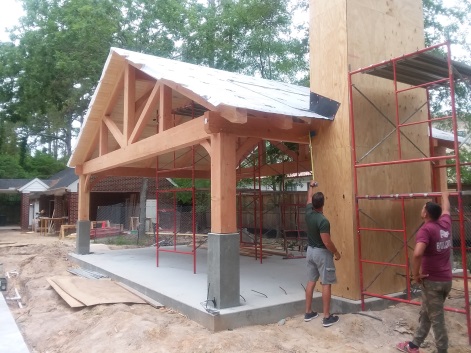 If comparing our pricing to other fabricators, please keep in mind that we only supply trusses and frames with Vacuum Kiln Dried Timbers.This type of drying allows timbers to be dried to the core instead of just the outside 1″…this reduces shrinkage and checking significantly and virtually eliminates twisting. Because of the stability of our components our trusses and even partial timber frames can be inserted into or appended to traditional stick framed structures because of the minimal, if any, shrinkage differentials involved. This cannot be done with green material.
We can provide assembly on larger, more complex timber frame projects or we have the option of bringing in a Technical Assistant (Foreman) from our fabricator to direct assembly and installation/erection of timber frames along with the project framer. This is a real world solution that keeps labor costs down. Although we believe it is always better to have a local structural engineer monitoring timber assemblies, we work on many projects where there is no engineer involved in the truss or timber frame design. We can provide engineering back-up or design/sealed in your state if needed on residential or commercial projects.
Please contact us for any additional information, technical or aesthetic assistance, or preliminary/final quotes.
Timber Frames Gallery