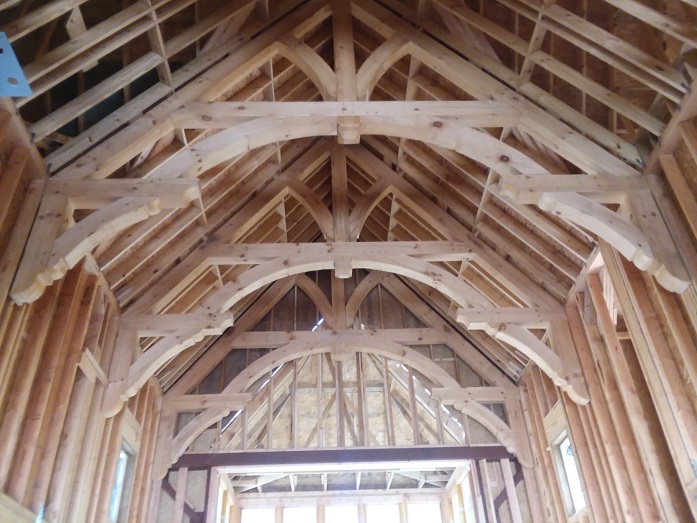 We supply Heavy Timber Truss Packages on a regular basis for both structural and decorative applications. There are two main types of joinery in trusses: the more common steel plated assembly and the traditional mortised and pegged assembly. Most of our truss projects are true mortised or mortised/steel hybrids but we can certainly fabricate traditional steel plated trusses if that is the look that is desired.
One common misconception is that timber trusses can only be used as decorative components. Although we supply many projects where our trusses are purely decorative, we have fabricated structural trusses up to 40′-0″ in length with steel plates and up to 32′-0″ in length with mortised connections. These are not maximum possible sizes, just the largest for us to date.
We are frequently asked what the approximate cost for a certain length truss would be. And while we wish there was formula for dollars per linear foot,there are so many variables that it is our preference to produce a pricing sketch to arrive at preliminary costing information. We do this on a regular basis and we are happy to provide this service at no cost.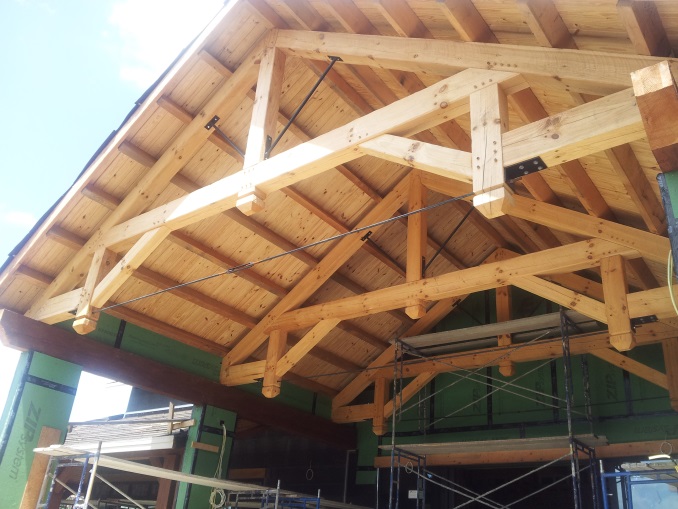 In addition to species selection, a major factor in the cost of trusses is required steel. The cost of the wood components in a plated truss is the same compared to a similar mortised truss (no steel). With prices starting at $ 50.00 per plate, steel can become a major budget factor. Over the years, we have convinced many architects and builders to allow a change from plated to mortised trusses to meet their budget constraints. If steel is required for particular stress connections, we can often retain the look of the classic mortised and pegged truss by using concealed plates and/or connectors.
Our typical truss is fabricated from Eastern White Pine or Douglas Fir. Other species such as Cypress and Alaska Yellow Cedar are available but are incrementally more expensive. Because Eastern White Pine is a local material to our fabricators, the cost of trusses in this species is typically 10% to 15% less than Douglas Fir. We are personally a fans of Eastern White Pine because it is much more color neutral than Douglas Fir and consequently offers greater flexibility in achieving specific stain solutions. Another advantage of Eastern White Pine is that we can have it Borate Pressure Treated for exterior installations…this treatment is not possible with Douglas Fir.
In addition to smooth finishes and precise chamfers, we can deliver with mill applied mechanically applied finishes including circular sawing, wire brushing and rustic corner chamfering. Our newest texture is our hand hewn (right below) which is also mechanically applied.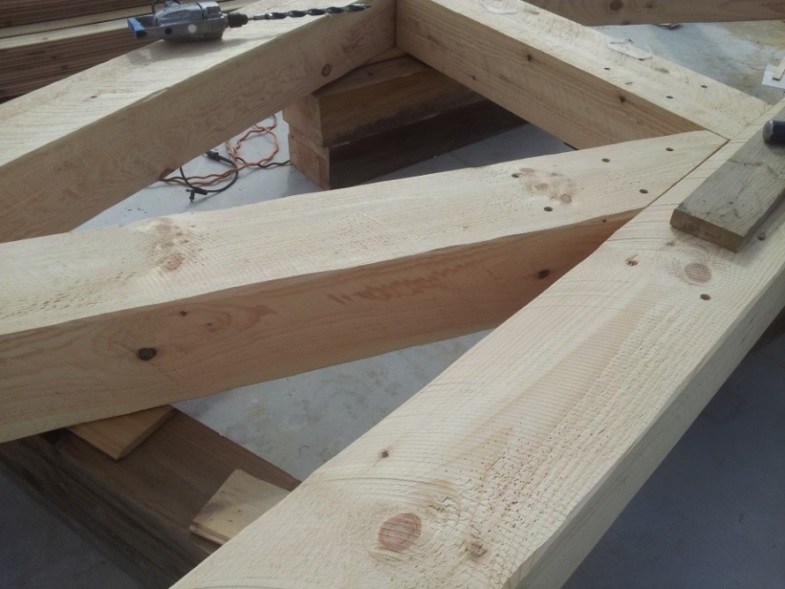 If comparing our pricing to other fabricators, please keep in mind that we only supply trusses and frames with Vacuum Kiln Dried Timbers. We are unique in having this capability. This type of drying allows timbers to be dried to the core instead of just the outside 1″…this reduces shrinkage and checking significantly and virtually eliminates twisting. Because of the stability of our components our trusses and even partial timber frames can be inserted into or appended to traditional stick framed structures because of the minimal, if any, shrinkage differentials involved. This cannot be done with green material.
We can provide assembly of trusses or on larger more complex projects we can bring in a Technical Assistant from our fabricator to direct assembly and installation/erection of timber trusses and timber frames along with the project framer. Although I believe it is always better to have a local structural engineer monitoring timber assemblies, we work on many projects where there is no engineer involved in the truss or timber frame design. We can provide engineering back-up or design/sealed in your state if needed on residential or commercial projects.
Please contact us for any additional information, technical or aesthetic assistance, or preliminary/final quotes.
Trusses Gallery
Eastern White Pine Trusses
Douglas Fir Trusses
Cypress Trusses
no images were found
Western Red Cedar Trusses
no images were found
Antique Hewn Distressed Trusses
no images were found
 Axe Hewn White Oak Trusses
no images were found