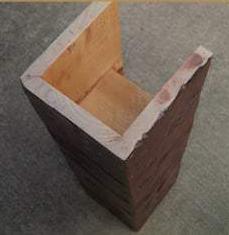 Over the years we have been been asked about the availability of shop fabricated Box Beams. We now have a mill that specializes in fabricating custom box beams out of Kiln Dried Eastern White Pine. Although we have always had a preference for solid timbers, these beautiful box beams serve a variety of needs:
They are much lighter in weight than solid timbers and are thus much easier to install.
They can conceal other ceiling components such as structural beams, wiring and plumbing.
While we enjoy the appearance of surface checks in timbers not everyone shares this feeling. Box beams allow to simulate heavy timbers without having to deal with cosmetic checks.
Our box beams are constructed with lock miter corners which will not open and are available in sizes from 4″ x 4″ to 12″ x 14″ and in lengths up to 24′-0″. A variety of textures are available including smooth, skip sanded circular sawn, and hand hewn. See examples below.