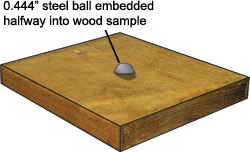 The Janka scale rates the relative hardness of wood. We have listed some of the most popular choices in wood flooring and included some more exotic species for your reference and comparison.
The higher the number, the harder the wood. These ratings were determined using the Janka Hardness Test which measures the side hardness measure of the force required to embed a .444 inch steel ball to half its diameter into the wood. This is one of the best measures of the ability of wood species to withstand denting and wear. It is also a good indicator of how hard a species is to saw or nail.
This should only be used as a general guide when comparing various species of wood flooring. Depending on where the wood is harvested the results may vary. Plank construction and finish are also important factors when determining the durability and ease of maintenance of any wood floor.
JANKA RATING – WOOD SPECIES (Hardest to Softest)
3684	Brazilian Walnut /Ipe
2345	Mesquite
1820	Hickory and Pecan
1450	Hard / Sugar Maple
1360	White Oak
1320	White Ash
1300	American Beech
1290	Northern Red Oak
1260	Yellow Birch
1225	Yellow Heart Pine
1010	American Walnut
1000	Teak
950	American  Cherry
900	Cedar
870	Southern Yellow Pine (Longleaf)
860	American Red Elm
770	Sycamore
690	S.Yellow Pine (Loblolly & Shortleaf)
660	Douglas Fir
540	Chestnut
540	Poplar
380	Eastern White Pine